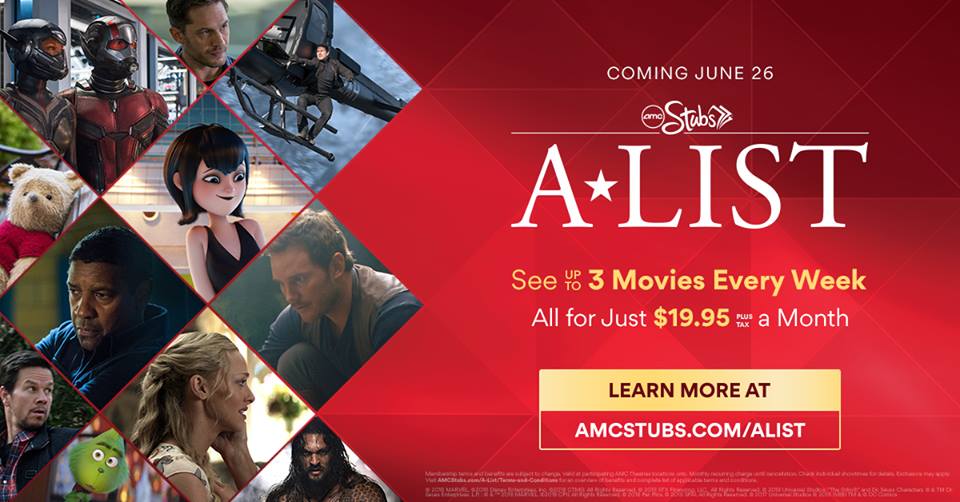 MoviePass, the service that allows users to view one movie per day in theaters for only $10 per month, has had a controversial history. Although the company is relatively young, its existence has caused plenty of drama within the movie theater industry. To some theaters, the subscription service is great in that they make money off of the movie tickets either way and can encourage greater concessions sales due to the lower ticket prices. To others, most notably AMC Theaters, MoviePass is giving customers unrealistic expectations of future ticket prices, which could cause issues for AMC if or when MoviePass eventually goes out of business. According to an LA Times
article
, AMC is looking to address those concerns by coming out with their own, similar, service, called AMC Stubs A-List.
Where MoviePass enables users to view up to 7 movies per week at pretty much every local theater, AMC A-List costs double the price and limits viewership to 3 per week, and only at AMC theaters. To the average MpviePass customer, this may seem like a terrible deal. Why would anyone pay double the price to see fewer movies per month at a smaller range of theaters? Well, it all ties into the economics of the subscription service. Yes, on a basic level, MoviePass is a much better deal in the short run. However, if you take into account that MoviePass is running a loss on every customer, it seems to be just a matter of time before the company has to either raise their prices or go out of business.
AMC's planned subscription service isn't as great of a deal initially, but because their pricing scheme is much more reasonable, AMC is much more likely to survive in the long run, from an economic perspective. So, if MoviePass were to one day go out of business, the A-list customers would not regret spending a little more per month for a better guarantee at a lasting service. Then again, MoviePass may survive after all, in which case their loyal customers will continue to reap the rewards.
It's not like AMC Stubs A-List is a bad deal. In fact, it's quite the opposite. The ability to watch up to 12 AMC movies for only $20 is a great deal, especially when the normal price for an AMC theater can be up to $16 for general admission, is incredible. Consumers are only looking down on AMC's subscription service compared to MoviePass' because MoviePass is just so great of a deal. However, AMC's subscription will be about more than basic movie tickets. It will also enable viewers to see IMAX or 3D movies and will provide discounts on various concessions. To many, this deal will seem worthwhile and could trigger a change. AMC's best bet in really capturing that market could be to focus on providing a better service than MoviePass. Many customers are upset with MoviePass that they not require uploaded images of purchased tickets, and by focusing on those complaints, AMC could really make a dent.
***************************************************************************************************
Find out more about us at
www.sepulvedaescrow.net
. Any Questions?
Contact
our Escrow Expert! Sepulveda Escrow Corporation (818) 838-1831. Follow our company on
Facebook
,
Twitter
,
LinkedIn
, and
Google+
.
**************************************************************************************************